Believe it or not, even in 2018, I  still hear from business owners and B2B companies who think that a blog has no place on their website. They may think the effort it takes isn't worth the investment. Or, they (mistakenly) believe that blogs are only for personal use or showcasing opinions. What they fail to realize is how many ways a blog helps turn a website into a useful marketing tool. Blogs are an essential component of any inbound or content marketing effort.
Still not convinced? Well here are seven reasons that demonstrate why a blog is essential for your business website.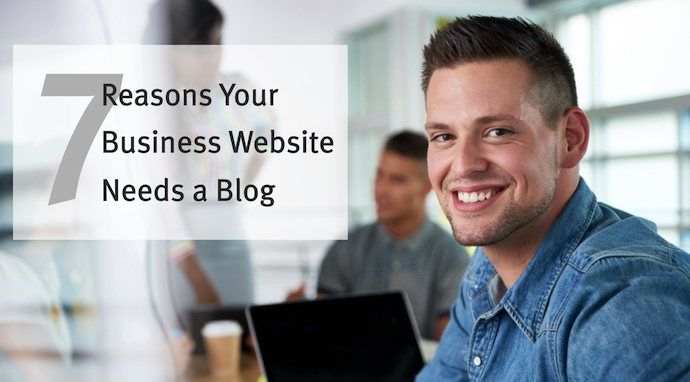 Reason #1. Get found more easily.
One of the main reasons any business-focused website should consider a blog is for the search engine optimization (SEO) value it offers. Google and other search engines place a high value on website pages with content that is frequently updated and of high quality. Blog articles help improve the amount of time people spend on your website, increase the number of pages they share or bookmark, and make it easier to include the sort of keyword phrases visitors might actually use in search engines. These are all factors that affect your website's rank in search results. Blogs also make it easier to get organic backlinks to your website, as visitors are more inclined to share blog articles or educational materials than other types of pages (especially purely promotional product pages).
Reason #2. Gain credibility as an expert.
Sharing your industry knowledge, experience and expertise in relevant, well-crafted blog posts shows your potential customers that you know what you're talking about. Customers are more likely to engage with businesses they see as experts in their field. You can use a blog to go into detail with useful tips about your products, answer customer questions, and provide advice about choosing between various options. You can also use a blog to generate interest from people who may not yet be considering a purchase. By providing education and advice that is useful in nature instead of focused purely on selling or promoting a product, you can help establish an audience for your expertise. In addition, website visitors are more likely to share articles that provide useful business information with their contacts on social networks. That will grow your reputation as an expert, and also result in more traffic to your website.
Reason #3. Tell your story in another way.
Storytelling is an engaging and effective way to interact with your potential customers. Tell them more about why you do what you do. What makes you passionate about what your company does? How did your company get started? What are the ideas, processes or methods you hold dear? A blog provides a way to share a series of articles that showcase your company and what you do in a human way to which other people can relate.
Reason #4: Engage in social media marketing.
Chances are good that your ideal customers are using social media. You should be there too, with relevant content that interests and engages them. Are ads and product pitches going to fulfill that role? Probably not. Think about what you are likely to read or share on social media. It's probably not advertising. But if you come across a helpful blog post, or interesting story or video, you might share it. So will your prospects.
Having a blog lets you create the kind of content that you can share across all your company's social media networks. It allows you to post relevant, updated articles that showcase your company's expertise, or point of view, in a way that is more engaging than typical promotional content is.
Reason #5. Create ongoing connections.
Having a blog subscription provides a way for you to stay connected with visitors who come to your website. They may not be ready to contact you or reach out for more information about your product the first time they visit your website, but if you have a useful and relevant blog, they may be interested enough to subscribe to it. Placing a prominent blog subscription form on your website can be a way to generate new leads and stay in touch with prospects over a longer period of time in a non-intrusive way. A weekly or monthly email update from your blog will help ensure your company comes to mind when the prospect is ready to make a purchase decision.
Reason #6: Encourage visitor interaction.
Likewise, a website visitor may not feel they have a question or message worthy of sending an email or using your website contact form, but if you spark an interest, they may leave a comment on your blog. This gives you a unique opportunity to interact with them in a useful, unobtrusive way. Taking a few minutes each week to respond to comments will prove worth the effort as it generates a sense of interaction for your website. You shouldn't worry too much about negative comments or spam, either, because there are a number of tools that can make dealing with both of these issues simple. Furthermore, responding to negative comments gives you an opportunity to correct misconceptions and show that your business takes customer needs seriously.
Reason #7: Use content marketing effectively.
On a blog, you can publish a variety of types of content, from videos, to how-to articles, to slideshows. You can offer infographics or ebooks. A blog gives you creative license to try a variety of different formats and styles of content that might not otherwise work well on a business website devoted to describing a company and products or services. A blog gives you the opportunity to show website visitors who you are, what you do, and what makes you special. That can go a long way in moving a prospect toward a purchase decision.
Starting a blog
Creating a blog on an existing website doesn't have to be a difficult endeavor. A variety of blogging tools, such as WordPress or HubSpot, are available out of the box that can work as add-ons to your existing website and allow you to get an effective business-focused blog up and running quickly.
Need help? Contact me if you need help setting up a blog, creating content,  getting a website set up for your business.